Electric Vehicle Technology Workshop
switch to electric, A cleaner and sustainable alternative
After the central government has given the permission to electrify all cars by 2030, manufacturers gears up to prepare for the impending new normal as setting up of battery manufacturing plants, investing in setting up charging stations, investment in EVSE.

Rising energy prices, pollution concerns, and oil and gas import targets are driving the demand for hybrid and electric vehicle technicians now and into the future. All this will enhance the demand for skilled and talented engineers & entrepreneurs for booming EV market. bridge between industrial skill and manpower will filled by AEVT pioneering program in electric vehicle engineering is one of the first of its kind in the India.

Electric vehicles are growing rapidly in the region but EV charging can be a daunting task for apartment complex managers and owners. Come learn about how to prepare your facilities for the growing demand for EV-ready homes.

Attend this workshop to learn everything you need to know about EVSE Business.

2 Days Workshop in two session
#
1
General sessions with high-level overviews of EV Industry in India
2
EV Technology & Market study session for Entrepreneurs
Panel Discussions Session -
Find out challenges, solutions and business opportunities for SME/startups

Click above WHAT YOU'LL LEARN link to see more detail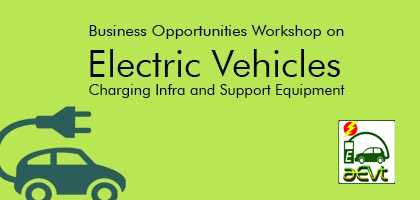 Awarded by
Academy of EV Technology, A Unit of Global Advanced Training & Educational Trust, Regd. under NCT New Delhi, Govt. of India
Eligibility
Anyone can attend
Minimum age 18 years, No Upper Age bar
Medium:
English, Hindi & Local Language
We believe in "Learn-through-Practical"
1. AEVT follows 70% practical and 30% theory
2. Developing practical knowledge and skill on Motor, Controller, Battery Pack Design, BMS, Charger equipments and Charging Station
3. Discussion on Industrial scenario and business opportunities
4. Unit wise practical Activities
Workshop Content:
Code
Topic Detail
EVI
General sessions with high-level overviews of EV Industry in India

Introduction


1. Global and Indian Energy Scenario and Energy Policy, scenarios of electric vehicle industry
2. History of Electric Vehicle, Working Of Electric Vehicle
3. Indian Market Statistics
4. Govt. Subsidies and policies for electric vehicles

FEV
FUNDAMENTALS OF EV

1. Working Of Electric Vehicle
2. How Do All-Electric Cars Work
3. vehicle hardware - Fundamentals of motor components and its functioning,
4. vehicle and grid communication and coordination
5. electric vehicle supply equipment (EVSE) standards
6. battery and fire safety standards
7. installation and EVSE equipment issues
8. Practical Demonstration of EV charging components, motor

EVSE
All about EVSE

1. Introduction with EV Technology
2. Electric vehicle configuration
3. Types of Electric Vehicle

Hybrid Electric Vehicles
Plug-in Hybrids
Battery Electric Vehicles

3. Type of Charger
4. About Bharat EV Charger

Bharat EV AC Charger (BEVC-AC001)
Bharat EV DC Charger (BEVC-DC001)
DC Fast Charging

5. Introduction with chargers, SAEJ1772, IEC 62196, Chademo, CCS, charging of Li-ion batteries, BMS

EVB
Technology & Market study session for Entrepreneurs

EV Business - Government rules and opportunity

1. What is the size of the EV market in India?
2. Why Bharat EV Charger
3. Govt. Policies and Regulations
4. India Electric Vehicle Charging Equipment Market
5. Business models, Utilities , Charging space providers, Battery swapping, Digital and information technology
6. What's your EV charging business model?

PDS
Panel Discussions Session -
Find out challenges, solutions and business opportunities for SME/startups

Attendees selected one of three breakout groups to participate in Panel discussions:

1. Electric Vehicle - 2W, 3W, 4W
2. Charging Infrastructure - Home charging, Public charhing
3. Support services / other
Fee for two days Electric Vehicle Technology Workshop
Workshop Fee for Indian Professionals

#
Fees detail
Amount
1
Registration Fee
Rs.1694
2
Workshop Fee
Rs.2542
Total
GST @18% Extra
Rs.4236
Pay Total Workshop Fee at the time of Registration.
---
Workshop Fee for International Professionals

| # | Fees detail | Amount |
| --- | --- | --- |
| 1 | Registration Fee | $ 48 |
| 2 | Workshop Fee | $72 |
| | GST @18% Extra | |
Pay Total Workshop Fee at the time of Registration.
Academy of EV Technology AEVT Chennai -
"EV ENTREPRENEURSHIP DEVELOPMENT INSTITUTE"
A Unit of
Global Advanced Training & Educational Trust
An Autonomous Institute Reg. under
NCT New Delhi, GOVT. OF INDIA
ISO 9001:2008 Certified Orginazation,

Traditional Learning vs. AEVT Skill Training

Education is all about learning the theory. Traditionally, an education may reinforce knowledge in which that you already have a foundation.
And that's where AEVT Skill training differs; AEVT training gives you the skills to do something rather than just know about something. Training can be specific to your need, your work experience or your skills-gap.


Why AEVT Innovation and Entrepreneurship Certificate Program
Understand the core technology, principles of design thinking
Familiar with success Business Model to think about your business
Apply design thinking principles to identify innovation potential in your products/services
You Will Gain
A greater understanding of the technology that needs to succeed
Deeper insights into the people you are serving - a powerful tool for market research, to capture value for customers
Each course consists of assignments and a final exam. The teaching team also provides feedback on select assignments.
Develop a strategic framework for assessing market opportunities
Link between Innovation, marketing and meaning of customer value
Take your career to new heights
The Indian auto industry faces a talent crunch as it gears up for the impending electric vehicle (EV) revolution there just aren't enough engineers with expertise in the field. Current demand is pegged at more than 5,000 engineers - mostly in the electric, electronic and mechanical disciplines - which is likely to touch 15,000 over the next two years or so, according to staffing company TeamLease.
Stay up to date with industry
Find the latest technology in AEVT libraries and archives, journals, publications, magazines and AEVT channel, you'll find the latest engineering and technology thinking ready and waiting. Looking for something to inspire you? Our E-Magazine is packed with articles, Projects of our Alumni, interesting facts and authoritative coverage, making it an exceptional read.
Personal and professional support
Take advantage of AEVT Entrepreneurs business facilities, our wealth of services. At AEVT, you're free to work, network and relax in your city. our network of local and international groups cover a whole host of disciplines so you can connect and collaborate wherever you are and whatever you do.
Get involved
Connect with Top manufacturers, service providers and buildup trust partner and customer network.
---
---
Quick Inquiry Form